If you're familiar with the story of Centralia, you might expect it to be a creepy place. After all, the old Pennsylvania coal town is often called "the real Silent Hill," because it inspired the setting for the film.
Only a handful of people remain, the rest of the town claimed by the state government and demolished due to an out-of-control coal mine fire that started in the 1960s. It's caused problems ranging from ground collapses to poison gases being released into the air.
The fire is still burning below the surface, though the fire has moved over time. If you venture near the current burn zone under the right conditions, you might see steam venting through the ground. The abandoned mine shafts are believed to have enough coal for the fire to sustain itself for up to another 250 years.
I recently ventured to Centralia with one of my cousins. And "creepy" isn't how I'd describe it — more serene than anything (though, sure, there were occasionally unnerving scenes).
It was a beautiful Friday afternoon, apparently the worst kind of weather you want when visiting Centralia. That means we didn't see any of the famous steam coming from the ground. I've seen people mention that you'll have better luck with that during the winter (the melted snow gives the burn zone away), or after a heavy rain. Sadly we went just before three days of storms — the only nice day we've had around here in weeks.
The benefit of going on a nice day, however, is that it becomes a bit easier to explore the smaller lanes and trails. My cousin and I weren't there just for the famous graffiti-covered abandoned highway. We were looking for more subtle things — the little staircase going nowhere, the odd child's playpen off the road down a narrow lane, and the old lost park (which I'd seen very little written about, and even fewer photos from).
While normally in these photo inspiration posts I try to give you a few story ideas, in this case I'm leaving that to you. There are a lot of options to pick from. Let's start with the obvious.
Graffiti Highway – Abandoned Rt. 61
The main spot people seem to be interested in visiting when in Centralia is the abandoned stretch of Route 61, often called "Graffiti Highway." This portion of the highway was closed (and the road re-routed) when the mine fire below caused the road to buckle and split open in some areas.
This was one of my least anticipated things to do, but let's knock it out first. Here's why the highway earned its nickname: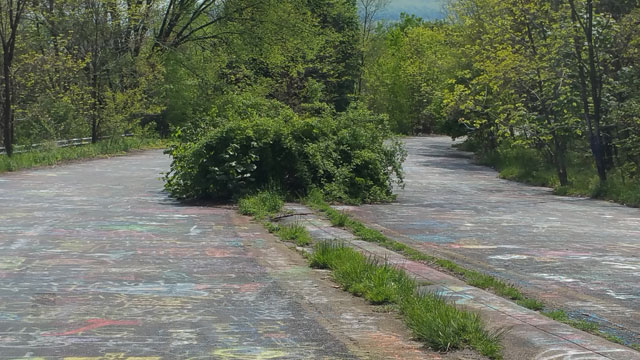 Here is one of the infamous cracks (a bit less impressive than what we expected, but we didn't have time to do the whole stretch as it was our last stop of the day; it may get even better the further you go).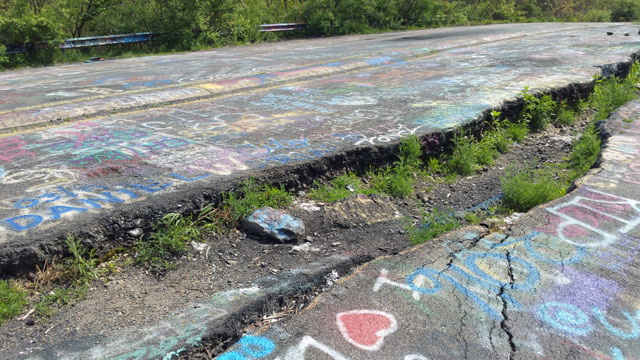 In this next one, you'll see some logs tossed in this crack. Apparently when the temperature gets hot enough at the surface, logs placed in the cracks will eventually ignite or at least end up charred. None of that was going on during this trip however. We saw no steam or evidence of high temperatures at the surface (though I did forget to bring my temperature gun, so we didn't exactly measure them).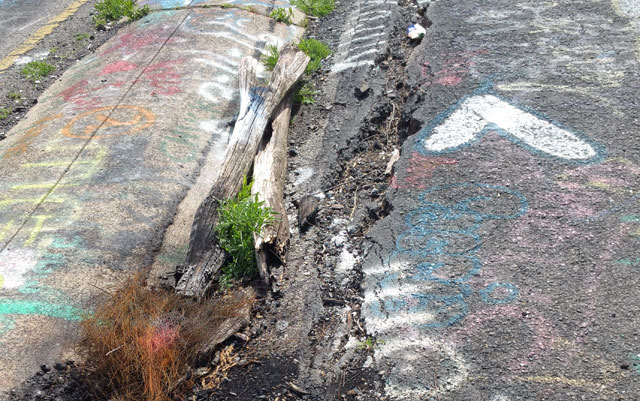 And just for fun, here are a few examples of the graffiti you might see. I'll spare you the penises (of which there were many). Seriously, if I learned anything that day, it's that if you give people a canvas and a can of spray paint, there's at least a 60% chance they'll draw a penis, especially if they can add one to someone else's artwork (like the skeleton I'm only showing the skull from — pretty cool, minus the penis added to him later, plus a second one directed at him). Probably not the best place to take the kids.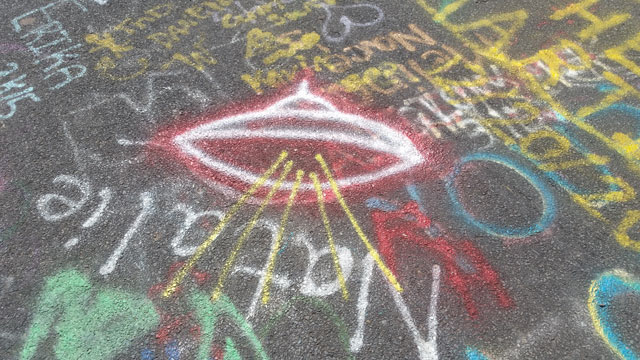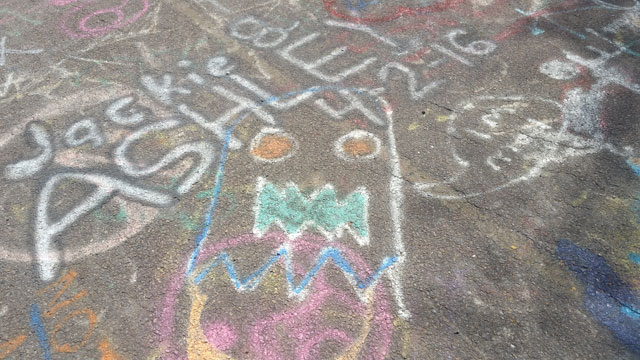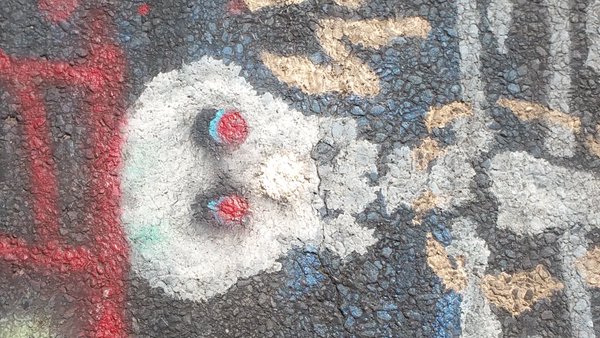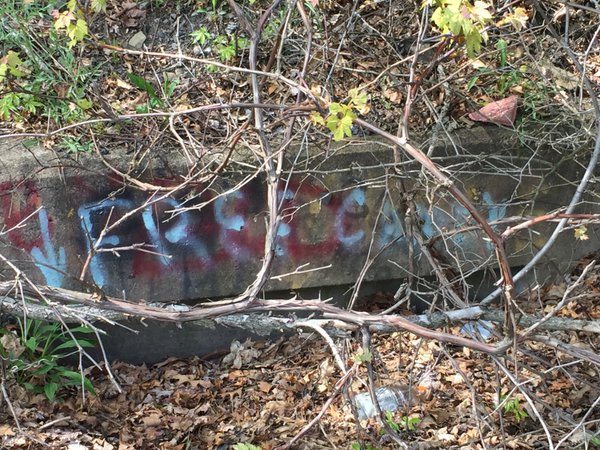 A Drive Through Centralia
If you were to come into Centralia on Rt. 61 or through Centre St., you might not even realize you're in a nearly deserted town. They look like typical busier roads in rural Pennsylvania. You'll even still see the old municipal building sitting on the side of the road as if it's open for business.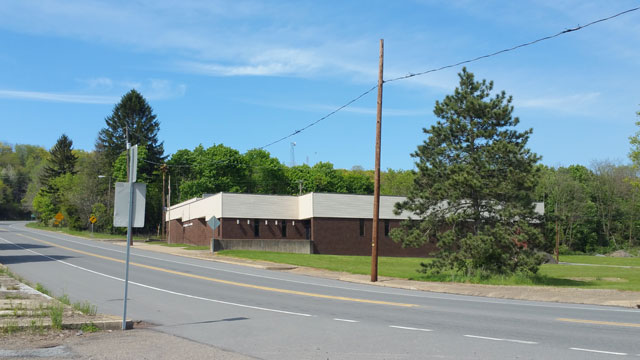 It's only when you pull off onto the back roads that the emptiness starts to hit you. I didn't take a lot of photos of these roads, but I did get a video of us doing our initial drive-around. I haven't had time to edit and narrate that to let you know what you're seeing yet, but when I do, I'll post it to the blog and add it to this post. In the meantime, here are a couple of shots to give you an idea of what you might see.
This is one of the typical side streets, in remarkably decent condition (at least most of the wider ones):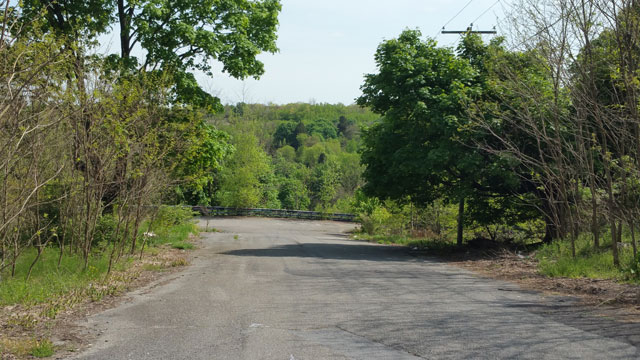 And here's one of my favorite roads — Railroad Ave. From what I've read about the place, it sounds like the old railroad line passing through town ran down the center patch of this road.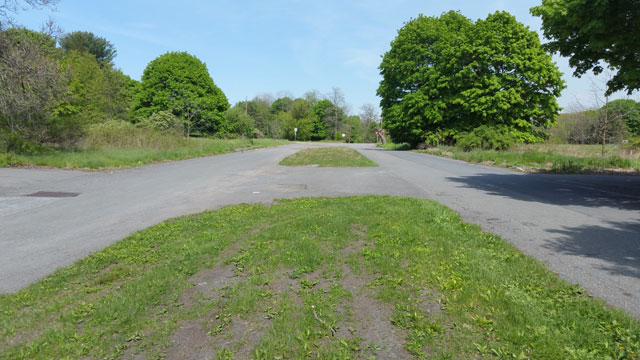 And here's one of the man sidewalks leading nowhere. You'll find them scattered about as you drive around Centralia: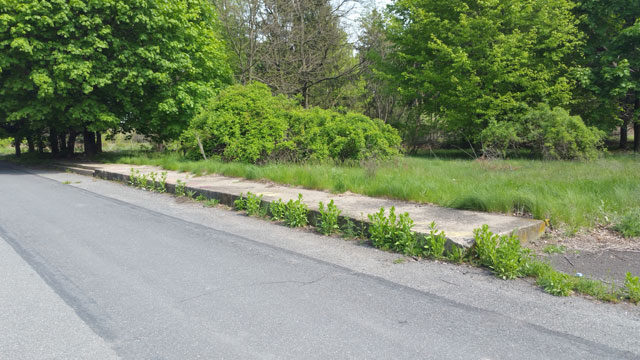 Unfortunately not everything's untouched. While Railroad Ave. was in pretty good condition, other roads are littered with trash (and broken glass, so be careful driving around). Here's a concrete wall we drove by, covered in graffiti: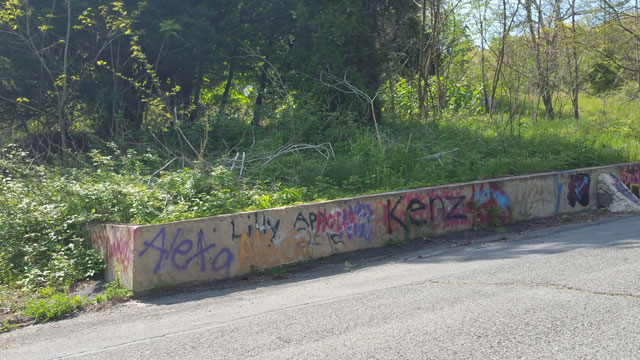 In addition to these traditional small town roads, you'll also come across a variety of narrow lanes and trails like these examples: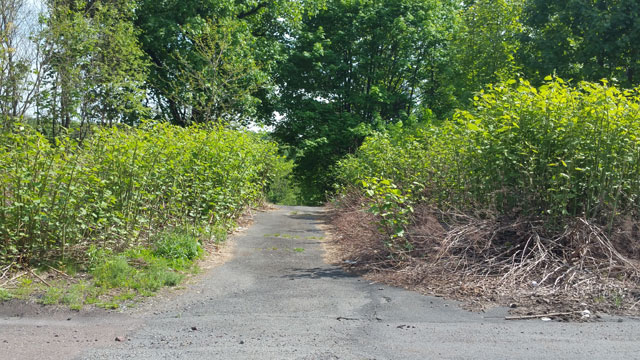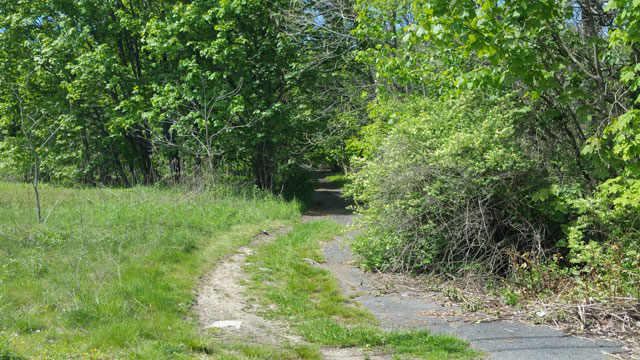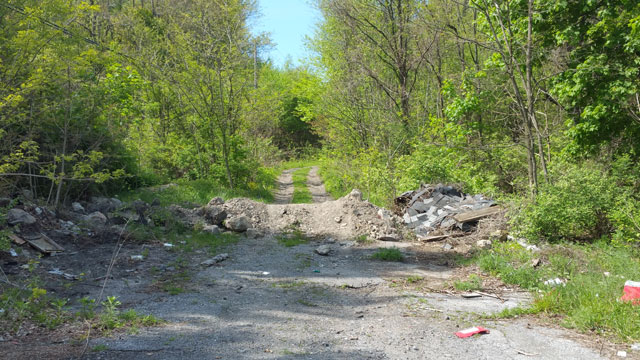 Remembering the Residents
There's much more to Centralia than abandoned roads. I was far more interested in the lots, and what we found when venturing off-road, either driving the trails or going on-foot. For example, there was this little staircase to nowhere: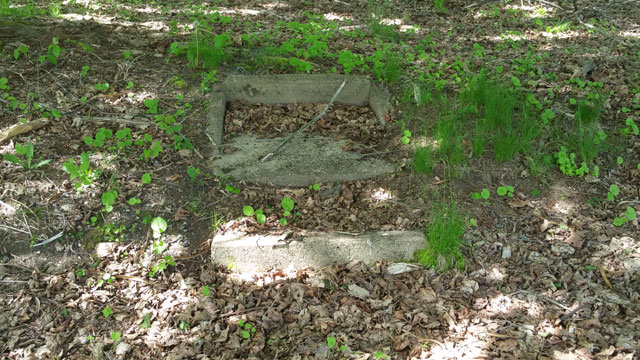 And this abandoned corner lot with the sidewalk still intact: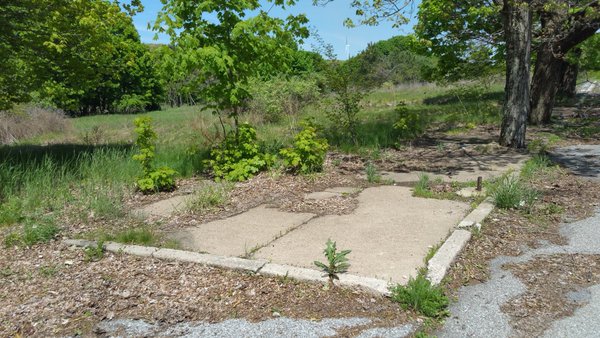 While walking along one road this caught my eye. It was one of the oddest, most unexpected sights — a child's playpen sitting on what looked to be a former driveway, probably from one of the old residences.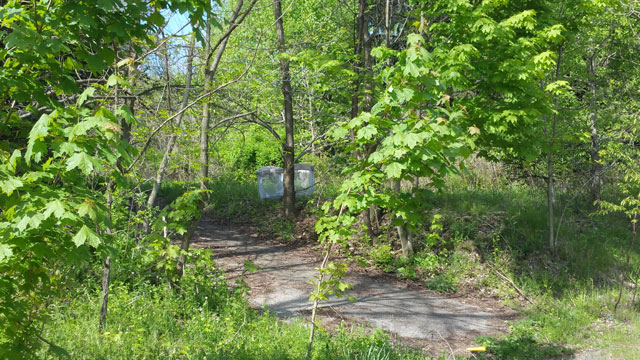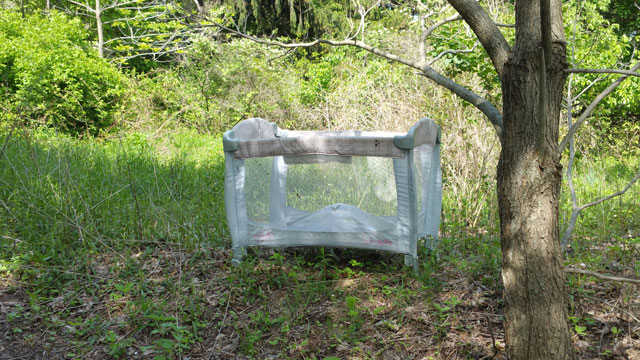 Then there was one of my favorite places — one of those more subtle finds I mentioned earlier. My cousin and I were driving down a side street when we approached an old stone wall. Right in front of us was a set of stone steps, again seeming to go nowhere at all. But there was something eerie, yet almost inviting, about them. There was a very "Secret Garden" kind of vibe to them.
Here's the wall: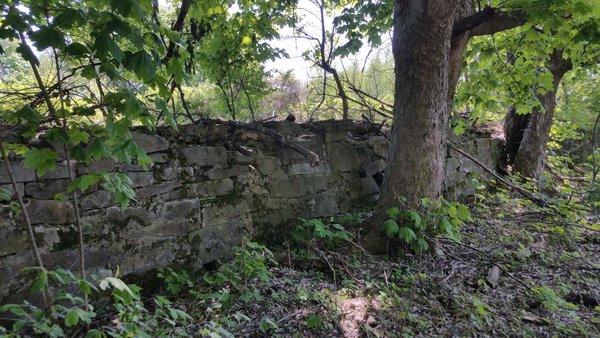 And here are the stairs: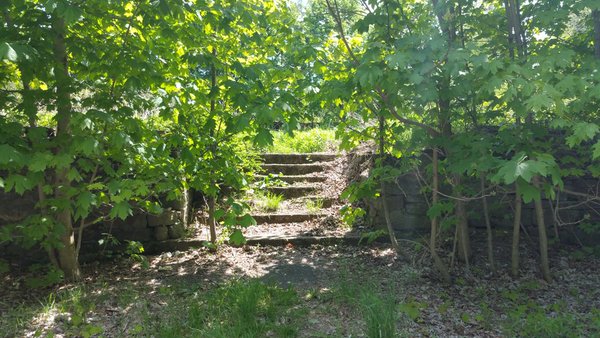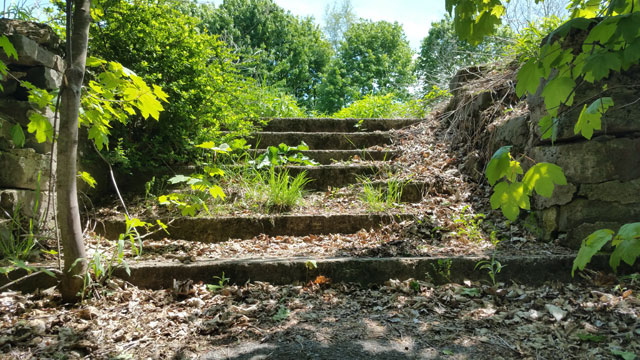 Of course we couldn't help but climb them to check out the lot above. It was beautiful, and relatively maintained. That was an interesting thing we noticed. Many of the old home lots are completely taken back by Mother Nature. But others are still mowed and looked after — likely by one of the few remaining neighbors, former residents visiting their old properties, or family members of those former residents. Here's the empty lot the stone steps take you to: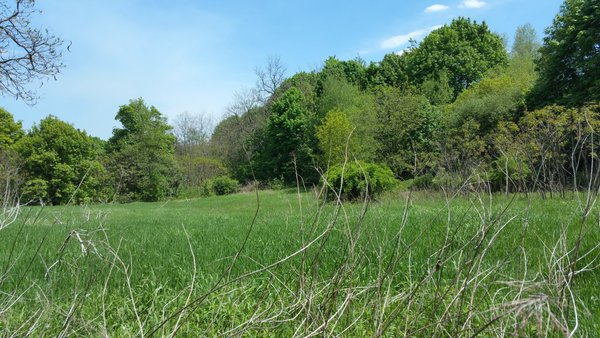 Surprisingly lovely, isn't it?
Centralia's Cemeteries (and Last Remaining Church)
Apparently there were once seven churches in Centralia. Today there's only one — Assumption of the Blessed Virgin Mary, a Ukranian Catholic church sitting high on the hill, just outside the impact zone of the mine fire below.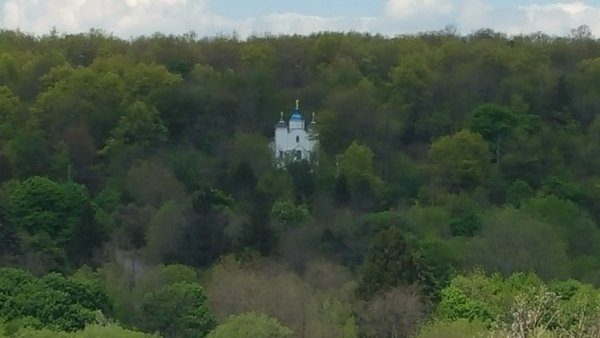 We drove to the other side of the valley to get a closer look: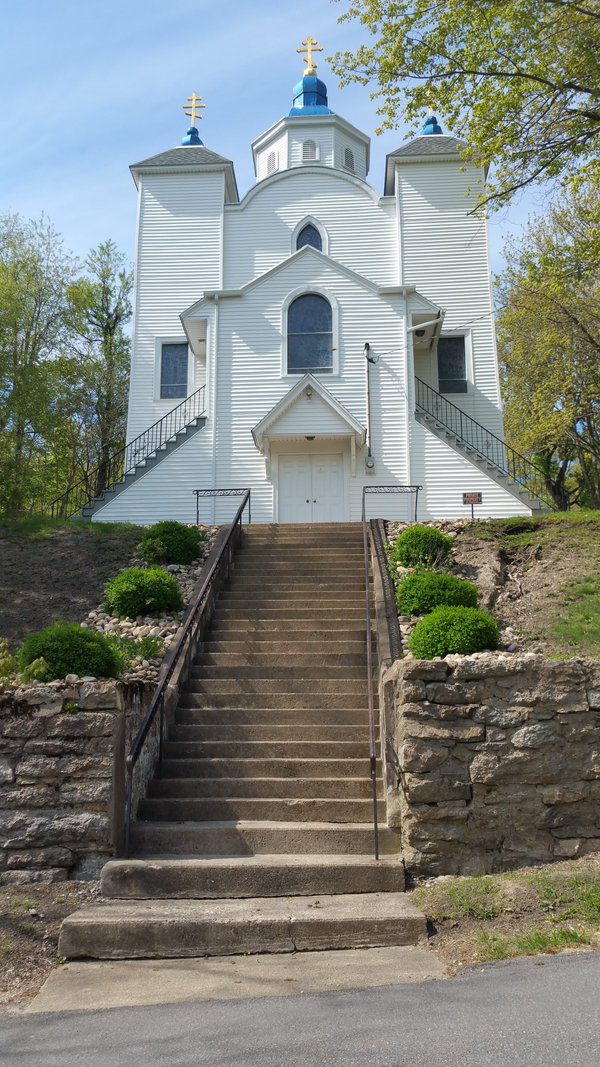 Not only is this the last standing church in the near-ghost-town, but they still hold regular services. Back down in the main area of town however, you can still see reminders of some of the former churches — namely their cemeteries. Three remain.
I didn't photograph the largest (not keen on walking into a fenced area where some guy has not one, but three, very large dogs running around without leashes).
This small Orthodox cemetery lies right behind the largest one. It's locked, so we took a few pictures from around the gate.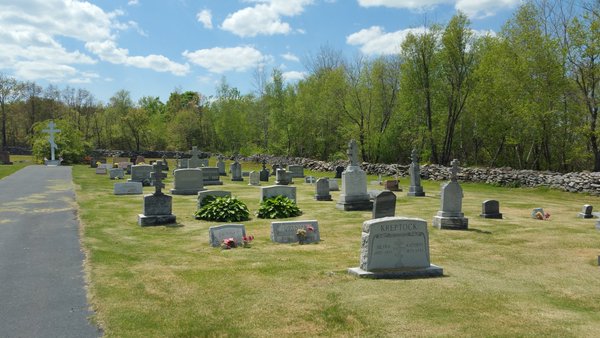 What's striking about this and other cemeteries here is that they're very well-maintained. You have to remember that, while this town was all but deserted, many of these families relocated to the neighboring town, Ashford. So families still visit loved ones and communities take care of the properties.
If you visit, please be respectful of that. Taking photos and exploring — that's one thing. Littering, defacing property (as some have done to a maintenance building in the larger cemetery) is something else entirely. That was disgusting to see. You wouldn't like it if some asshole pulled a stunt like that in a cemetery where your loved ones were buried. So don't do it.
This next cemetery was my favorite. It's the Odd Fellows Cemetery, a little more hidden than the other two. You come up the hill on Rt. 61 and will make a right turn on one of the small lanes. They'll lead to a gravel path and larger rock-covered lot. The cemetery is towards the back. You can't miss it once you see the rock clearing.
While in this cemetery, you have a great view of one of the nearby hills. The only smoke, steam, or anything along those lines we saw all day was on top of the neighboring hill (might be able to make it out in the shot below):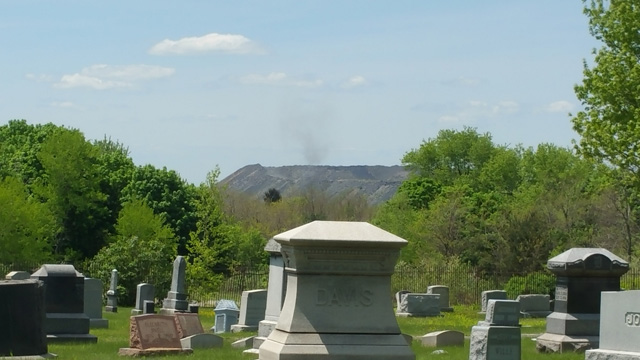 Here's a shot of a damaged area in the cemetery's fence: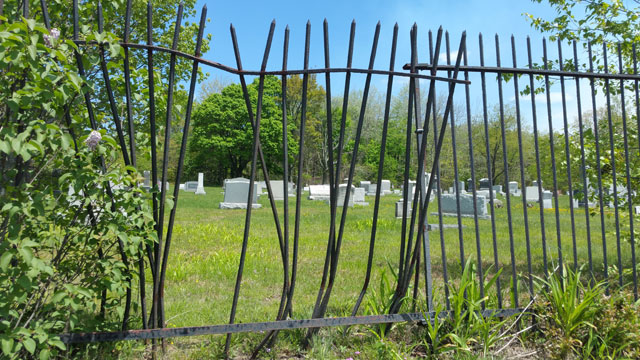 This creepy, broken gate is near the rear of the cemetery: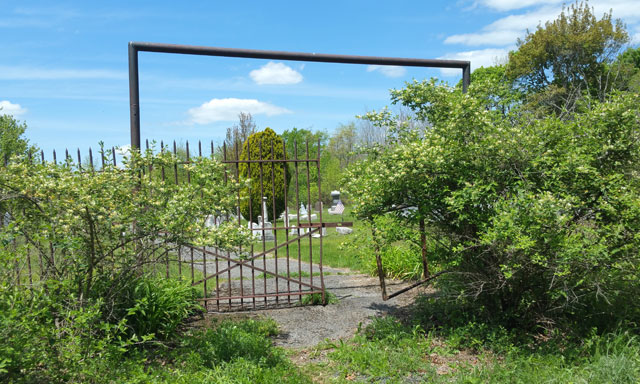 And this is the trail behind the cemetery. If I hadn't left the car in a bad spot, we would have walked further along this one into the woods. I know there's supposed to be a huge sink hole in the woods behind one of the cemeteries, but I don't know which one and didn't have much time to explore behind them.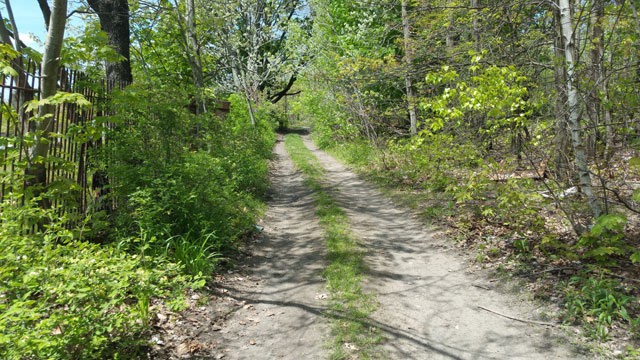 And this final shot is of a grave on the outside of the cemetery. There were several lining the fence. Based on the name "Halo" on this one and the size of the dirt mound (they did a lousy job burying and filling things back in — it's a bit creepy actually), I have to assume this was a pet — likely a medium or large-sized dog.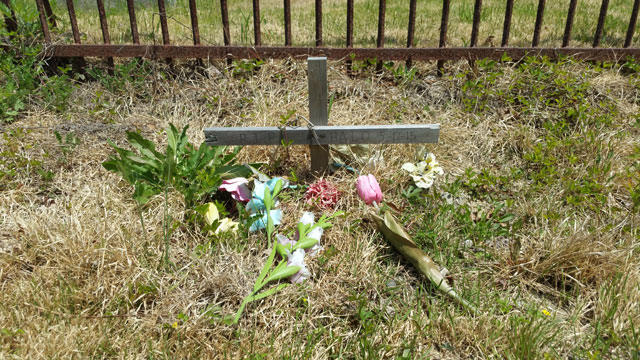 Other Sights Worth Seeing
Here are some photos that didn't quite fit into the other groups above — just random things that caught our attention or distant views worth catching if you can.
On the drive into Centralia, the road we were on (Big Mine Run Rd. I believe) ran alongside a creek. At one point the creek came almost up to the roadside, and we noticed it was extremely orange in color. Of course we had to stop and snap a few shots.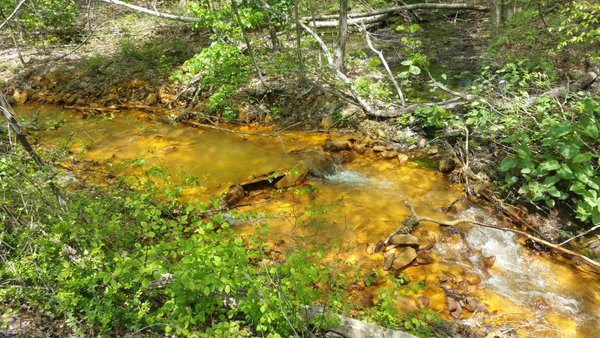 It turns out this is a result of acidic run-off from one of the abandoned mine's drainage tunnels.
This shot was taken from some mounds behind the largest cemetery in the town. Towards the left in this view across the valley, you can see the church I shared images of above.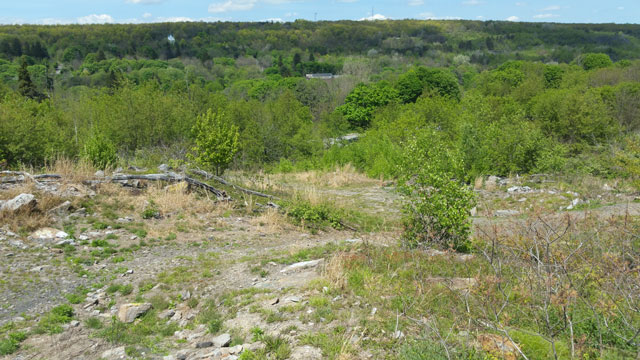 This shot was taken from around the same spot, showing a ridge lined with modern windmills. It's a fascinating contrast, looking at wind energy being harnessed from a town destroyed by coal.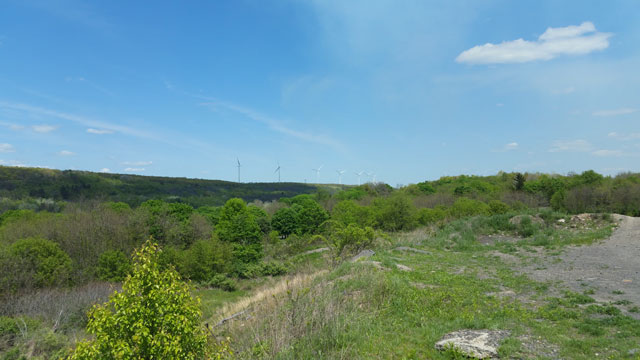 These gravel trails are at the top of the mounds behind the cemetery. This is where the previous two shots were taken from. I managed to get my car up here (from the back end, not from near the cemeteries), but I don't recommend it. It could be a great spot if you're there on a dirt bike or ATV though.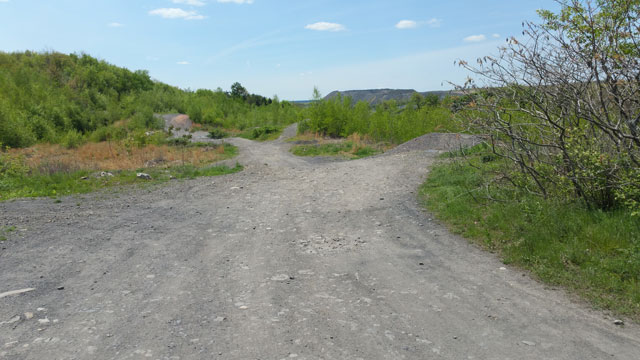 You're supposedly able to get the best view of the damage from up here, but honestly I didn't see anything dramatic — just a few burnt logs in the drop-off below. Perhaps we should have followed these trails a bit further on foot.
Centralia's Lost Park
I saved the best for last. These photos are from my favorite find in Centralia — the old park. What's odd is that we knew there was a park there, but there were very few photos available. I'd even read there was an old baseball diamond somewhere, but no one could say how to get there and, again, I couldn't find any photos to figure out if anything still existed.
Here's where some satellite image planning came in handy. While reviewing all the off-road trails and looking for hot spots worth looking into, I saw a strange light-colored rectangle on the satellite images off Park St. I thought maybe it was an old slab foundation or something from one of the more recently-demolished buildings.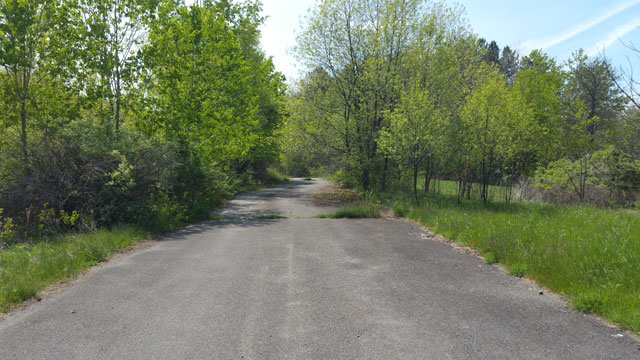 My cousin and I drove up Park St. trying to get a view of what might have been on the image. But we couldn't see anything at all. Disappointed, thinking whatever it was might have since been removed, I pulled over to at least snap some shots of the field nearby. I asked my cousin to take a quick peek in the other direction to see if there was anything worth checking out.
Suddenly, she was gone. I couldn't see her anywhere and she wasn't answering when I called out to her. Great. So I went looking for her. Then I heard her shout for me to come through some trees. And I was blown away.
We were standing on a large paved area — no roads or paths leading in from any direction. It looked like a parking lot at first, with faint painted lines still showing on the pale asphalt.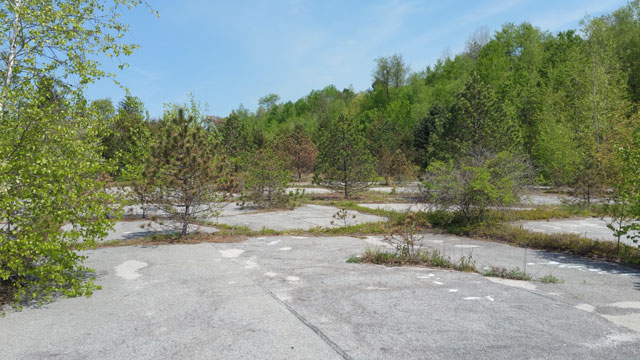 What was amazing about this spot wasn't the way nature was reclaiming it, a variety of trees and shrubs growing from random splits in the surface. It was the fact that it was so untouched by humans. Everywhere else around Centralia, if you had a large empty canvas like this it was either abused by littering sightseers or covered in graffiti. But not here. It was gorgeous in a strange sort of way. And if anywhere could be described as "haunting," it was this strange patch of land we only found thanks to those satellite images.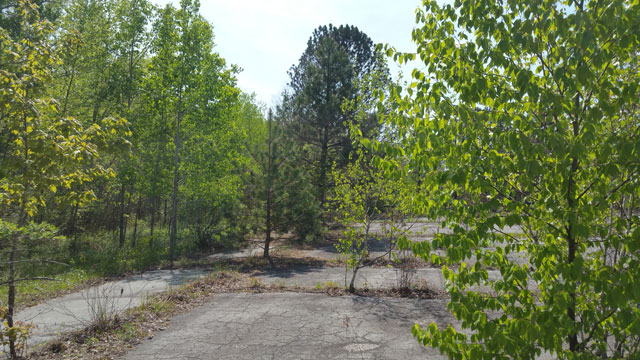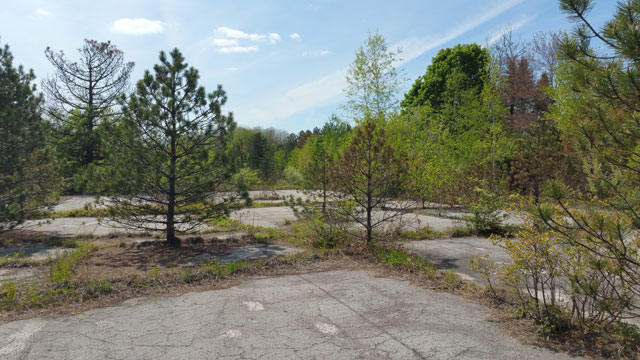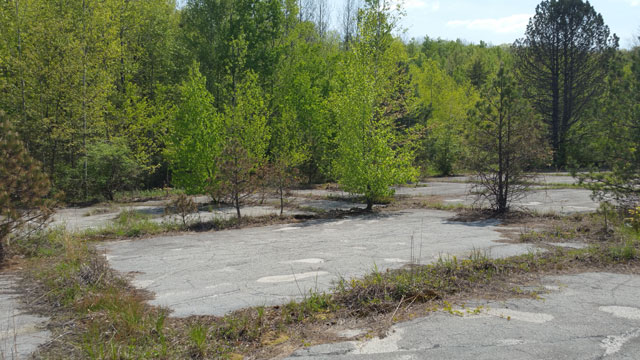 I circled the "lot," snapping photos.My cousin, who had been on the other side, came back over to tell me she thought the other end was a basketball court from the old park. I told her I knew — I'd literally just photographed the center circle markings from, as it turns out, what was a second court.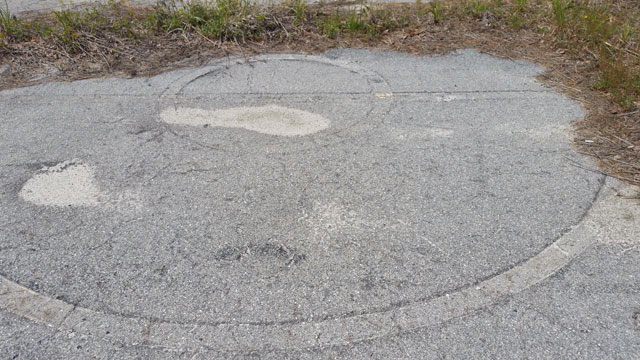 I later found an overhead shot of the city from the early 1970s showing the two courts quite clearly. And it looked like there used to be a small access road or driveway leading to them from Park St. No signs of that exist anymore.
As I made my way full-circle, I stopped to photograph what may have been some old benches or just a boundary marker separating the courts from the field below — now on the other side of some trees. But something caught my eye off the rear corner of the first court.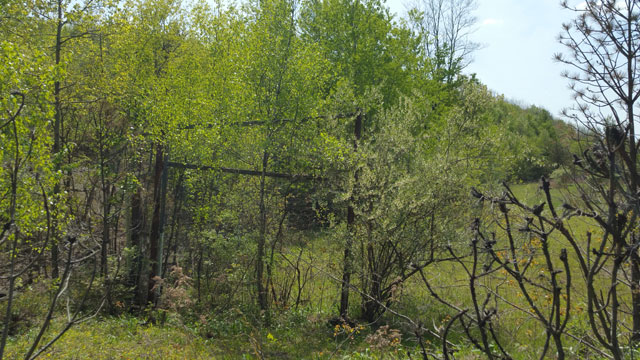 I made my way down a short muddy hill, careful not to slip into the large exposed pipe just below ground level. And if I wasn't happy enough about finding the old basketball court — something neither my cousin or I had seen anyone mention in our pre-trip research — I was ecstatic when I realized what the wood structure was.
It was the baseball diamond I'd read about and thought was completely erased. More specifically, it was the old backstop behind home plate.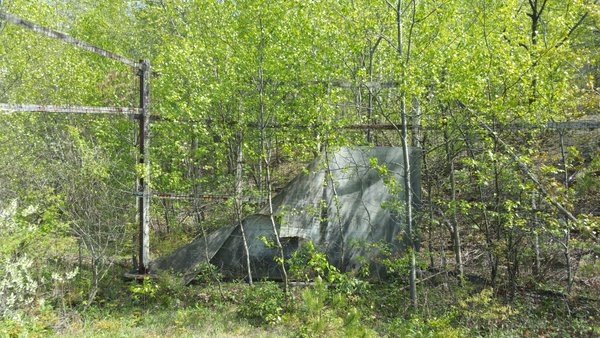 Home plate (or what I assume was the concrete base anchor for home plate) was still there too.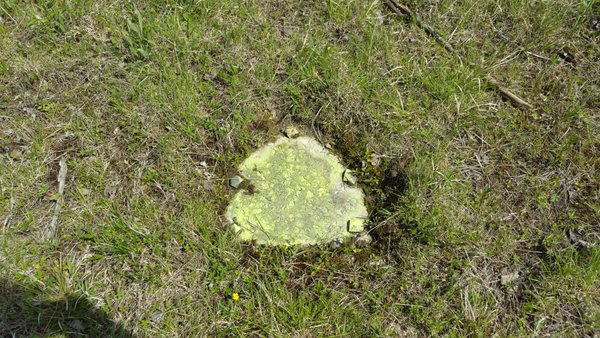 And looking out from the backstop I realized the field I'd stopped to photograph on the far end was the baseball field all along.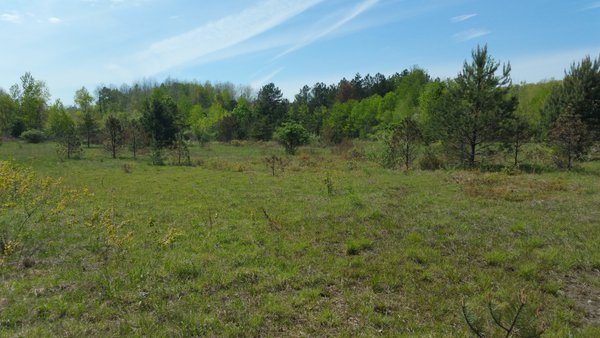 It was completely surreal, and one of the last things I actually expected us to find that day. There's a certain sadness when you're standing there realizing this used to be where children played, and now it's a desolate field where the seemingly-healthy earth actually crunches below your feet with every step.
Sad or not, I couldn't have been happier to find this spot. Who knows how much longer that old wood backstop will survive to mark the spot? Someday soon, your only hope might be to stumble across the old concrete base anchor.
Going Back to Centralia
While my cousin and I saw quite a bit during our visit to Centralia, I'd love to go back — ideally in the fall when it's cold and barren but there's not yet any snow on the ground. There's so much I'd still love to see, from the trails deeper in the woods to a closer view of the current burn zone.
There's also a second abandoned village just outside Centralia, affected by the same mine fire. We were going to swing down the lane to see the area on our way out of town, but fortunately I saw the huge drop-off from the main road before making the turn. Had we done it from the other direction, I wouldn't have seen that, and it would have completely fucked up the undercarriage of my car.
We did find out there might be another way back there. And if you're on a bike, ATV, or higher vehicle, you might be able to make it from the main entry lane. So I'd like to go back and check that out as well. If you're in the area, look up Byrnesville, PA to see if it's of any interest to you.
So yeah, Centralia's staying on my must-visit list. I have a feeling we barely touched on this town's secrets. Next time we'll go even further off the beaten path, probably squeeze in a bit of climbing, trace the creek to the old mine drainage tunnel, look for the big sink hole supposedly behind a cemetery in the woods, explore the park area more thoroughly, and I'll let you know what we come across.
Finding Inspiration in Centralia
So many of the stories I'd read from previous visitors to Centralia cited it as a boring location. "There's nothing in Centralia anymore," they'd say. But they're wrong. They just didn't know where to look.
The best parts of Centralia aren't the tourist trap graffiti highway or the hope of seeing a bit of steam coming from the ground (which apparently depends heavily on the weather). It's all those subtle things others miss — the little stone staircase going nowhere, the amazing view of the last church of Centralia sitting on a hillside watching over the remnants of the town below, the old forgotten park, and the trails leading into the woods.
If you have any sense of history, or any sense of adventure, you'll find something to love about Centralia. You just have to open your eyes.